---
Written by jen on May 04 2023
DEADLINE – Sony is determined to bring moviegoers back to comedies in theaters and they just dated their Will Gluck directed Anyone But You for Dec. 15.

The trailer dropped last week during the studio's presentation at CinemaCon.

The screwball comedy, which stars Sydney Sweeney and Glen Powell, follows two people who loathe each other so much — they can't resist the other. The pic is set in Sydney and follows the two as they go on various vacation hijinks from falling off boats to getting big spiders down their pants.

Screenplay was penned by Ilana Wolpert and Gluck. Joe Roth produces with Jeff Kirschenbaum and Gluck. EPs are Sweeney, Natalie Sellers, Alyssa Altman and Jacqueline Monetta. Alexandra Shipp, GaTa, Dermot Mulroney, Rachel Griffiths, Michelle Hurd, Bryan Brown, Darren Barnet and Hadley Robinson also star.

The only other wide studio release on Dec. 15 is Warner Bros. Timothee Chalamet movie, Wonka.
---
Written by jen on April 25 2023
Glen attended CinemaCon yesterday with Anyone But You co-star Sydney Sweeney to present a small teaser of their R-rated rom-com during the Sony Pictures Entertainment Presentation.
Events > 2023 > Apr 24 | CinemaCon 2023 Opening Night
Photoshoots > Photocalls > CinemaCon 2023 – Sony Pictures Photocall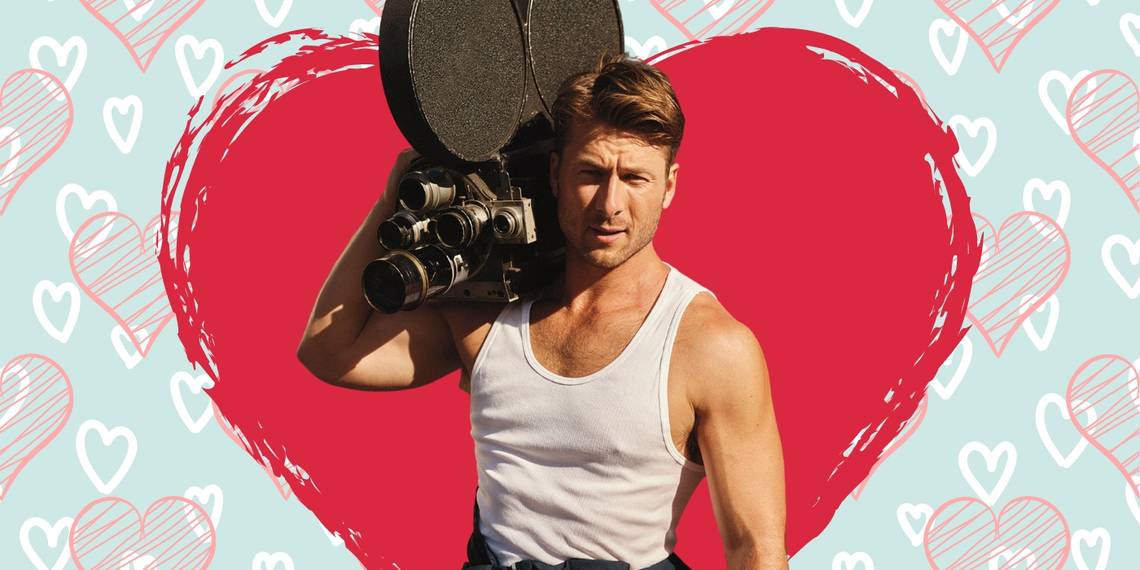 ---
Written by jen on March 12 2023
COLLIDER – Audiences deserve a new face of the genre.
Two of the recurring concerns of modern cinema relate to the shortage of movie stars and romance. Certainly in the mainstream landscape, the superhero monopoly has nearly wiped out the power of the movie star and sexual appeal. All of our actors in mainstream movies have never looked prettier or been in better shape, and yet, the big screen has never felt more sterile. The kinds of actors that should be elevated to stardom are confined to the restrictions of the franchise they represent. During promotion for his new film Magic Mike's Last Dance, a film that quenches the thirst for sexiness in movies, Steven Soderbergh asked "how are we going to make new movie stars if people's primary motivation for going to the movies is the IP, not the actors?" To the detriment of adult-oriented audiences, movie stars have devolved into action figures, designed to be exceptionally fit but are lacking in any romantic draw. This crisis calls for the emergence of a modern Romantic-Comedy king, which is a genre that needs a proper revival on the big screen so it can pump some sexiness back into male stars. Enter, Glen Powell.

Glen Powell Has Leading Man Potential

The actor recently got the chance to exhibit his talents in mainstream cinema as "Hangman" in Top Gun: Maverick, and he proved his leading man potential. Powell is majestic in his figure, not to mention traditionally handsome and picturesque. It would be a shame if studios only chose to exploit his good looks and disregard his personality. In an ideal world, Powell would never get sucked into the plethora of franchises, but that is way easier said than done. There is nothing wrong with the draw towards leading men with a statuesque physique. The problem lies when that characteristic is exclusively fixated on for the purpose of selling merchandise as part of a line of superheroes. Unfortunately, for executives of comic book movie franchises, it may be a lost cause. Stars will continue to be sexless action figures as long as the profits roll through the door. This is where the void of a proper romantic male lead icon comes in.

'Set It Up' Showed That Glen Powell Is Perfect for Rom-Coms

Powell is still enough of an untapped resource to seamlessly slide into the role of a rom-com king. The 34-year-old actor broke out in the 2015-16 range with notable roles in the Fox series Scream Queens and Richard Linklater's coming-of-age comedy Everybody Wants Some!! His breakthrough part in the latter is the Rosetta Stone to his potential mega-stardom. The part of Walt Finnegan, the hot-shot captain of the baseball squad and party-seeker, was written as the standout shining star, and Powell capitalized on it. He then starred opposite his Everybody Wants Some!! co-star Zoey Deutch in Set It Up, a rom-com for Netflix, and this is where the momentum churned for Powell to take over as the new face of the genre. What appeared to be a rudimentary story of hesitant lovers was viewed more favorably by critics and audiences thanks to the discovery of Powell and Deutch as romantic leads.

Glen Powell Could Breathe New Life into the Rom-Com Genre

Powell checks all the boxes of an ideal male face of rom-coms and ultimately, a true movie star. He possesses the innate qualities to traditionally appeal to all demographics. Movies targeted towards adults in the last decade have seemingly abandoned the idea of overtly appealing to a unisex audience. Powell is modern enough to attract newer audiences and keep rom-coms fresh, but still classical enough to make the genre feel like a refreshing return to the glory days. The genre is commonly relegated to streaming, partially because it has been limited as a pipeline for developing new stars. Only when familiar faces like George Clooney and Julia Roberts pair up for a film like Ticket to Paradise does the genre obtain a wide theater release, and succeed financially as a result. While he is still a relative unknown from the perspective of a household name, he has previously worked in a variety of genres, from an indie Richard Linklater hangout movie to action-adventure pictures like Maverick and his other 2022 outing, Devotion. In all of his performances, Powell has demonstrated a youthful bravado that could breathe fresh life into any middling romantic comedy. His Texas upbringing gives him that southern warmth that, generally speaking, satisfies the interests of both men and women.

This speculation regarding Powell's promise as the new face of rom-coms has value, as it was announced that he would be starring opposite Sydney Sweeney in an R-rated romantic comedy by Will Gluck. While all details of the project have remained under wraps, this is a fantastic breakthrough for the genre and the betterment of adult-oriented studio pictures, with this film being made under Sony. With Sydney Sweeney being one of the actresses of the moment, this project could be a huge step in the actor's rise to super-stardom. The Powell/Sweeney duo could be as huge a success as Powell/Deutch, although we're still hoping that they will team up again for another rom-com!

We Need More Movie Stars and Rom-Coms!

It is not as though the fate of filmmaking rests on the shoulders of Glen Powell's potential to emerge as the breakthrough rom-com male lead. However, the void in the film landscape that he is best served to fill is integral to the reclamation of movie stars and healthy depictions of sexuality on the big screen. In fact, the problem does not lie in the current crop of acting and movie star talent. Stars who emerged in the 21st century had the capability to sell a movie on the heels of their charisma, but they were swallowed up by the capitalist demands of franchise filmmaking. There is undoubtedly a reignited post-Pandemic movie-going audience that craves a traditional form of Hollywood entertainment, one that utilizes a star's physical and personable appeals. Promising box office returns in 2022 for the aforementioned Ticket to Paradise and The Lost City are indicative of a desire for classical sensibilities, and the genre is ripe for a new star. Before he gets lured by the prospects of cape cinema, Glen Powell deserves to take the mantle as the next face of the modern romantic-comedy, and perhaps the future line of movie stars at large.
---
Written by jen on January 11 2023
DEADLINE – EXCLUSIVE: Will Gluck is getting back to his rom-com roots and looks to have landed two of the most sought-after stars in town for his next project. Sources tell Deadline that Sony Pictures has acquired an untitled R-rated romantic comedy, with Sydney Sweeney and Glen Powell set to star and Gluck directing.

While the plot is being kept under wraps, the project is based on Ilana Wolpert's script, which Gluck is rewriting.

Joe Roth, Jeff Kirschenbaum and Gluck (who with his Olive Bridge Entertainment has a first-look deal at Sony) are producing, with Sweeney exec producing for Fifty-Fifty Films. Natalie Sellers and Alyssa Altman are exec producing for RK Films.

Sony landed the coveted package at the end of last year and after figuring out Sweeney's schedule with her Euphoria dates. Shooting is expected to start at the end of next month.

Following her Emmy-nominated work on HBO's Euphoria and The White Lotus, Sweeney has spent her Euphoria hiatus building up an impressive upcoming slate starting with the Sony/Marvel pic Madame Web. That production finished last year and began a new strong relationship with the studio and the budding star, as Sony would then land the rights to the package The Registration that she is attached to star and produce. She is also attached to exec produce and star in a new Barbarella movie at Sony Pictures and has also also recently partnered with Fifth Season to produce a TV adaptation of The Players Table. She also recently wrapped production on National Anthem.

For Powell, the film returns him to his rom-com roots as well after his career was launched in Netflix's The Set Up opposite Zoey Deutch. He is coming off a big 2022 starting with Top Gun: Maverick. He was also recently co-starred with Jonathan Majors and executive produced the historical war epic Devotion for Sony. Additionally, he will team with Chris Morgan in the sci-fi action thriller Deputy X for Universal and has signed on to the buddy comedy Foreign Relations, where he will star alongside Nick Jonas.

Best known for his comedies Easy A and Friends With Benefits, Gluck is currently developing End of the World, an action comedy he wrote with Chris Bremner and which Gluck will direct, and Just Dance for Ubisoft which Gluck wrote with AC Bradley and will direct. On the TV side, Gluck is adapting Chameleon: Hollywood Con Queen with Noah Pink for Peacock, which he will direct and produce. He is also producing the Black List-topping Move On, a sci-fi romance by Ken Kobayashi, for Sony, and the live-action adaptation of Aristocats for Disney.

Wolpert is the executive story editor on Season 4 of High School Musical: The Musical: The Series at Disney+. She is developing her original series Turn of the Century Teenage Bitch with Animal Pictures (Maya Rudolph & Natasha Lyonne), Paulilu (Paul Downs & Lucia Aniello) and 3 Arts. Previously, Wolpert sold and developed her original pilot I'm In Love With the Dancer From My Bat Mitzvah at the CW with Rachel Bloom.

Sweeney is repped by Paradigm and Hansen, Jacobson, Teller. Powell is repped by CAA, The Initiative Group, and Johnson Shapiro. Gluck is repped by UTA. Wolpert is repped by UTA, 3 Arts and Ginsburg Daniels Kallis.